Approximately 150 delivery workers in the Wolt platform went on strike in Nicosia on Tuesday, December 13th. Two days later, on December 15th, they were joined by their colleagues in Limassol. The next day, Larnaka workers joined as well. At the moment, 80% of all Wolt delivery workers in Cyprus are on strike. Most of the workers are either foreign students or asylum seekers.
The strike was triggered by some new cuts in the rates these workers are paid. The secrecy with which the company tried to change the payment rates was the tip of the iceberg, which enraged the workers. But the strikers also tried to bring forward a long standing problem in their line of work, which is the extremely high commission that fleet managers/agents withhold from the delivery workers' salaries. 
The strikers speak
As NEDA (New Internationalist Left- Νέα Διεθνιστική Αριστερά- Yeni Enternasyonalist Sol), we were present outside Wolt's office in Nicosia, expressed our solidarity and spoke with the strikers. This is what they told us: 
"On Sunday (December 11) night we noticed that the base delivery payment (for deliveries in the range of one kilometer around the delivery driver) was reduced to 2,26€. We also noticed that for some other deliveries, the distance from pickup to drop off was not mentioned, therefore they would not pay us compensation for it. We started communicating through an online chat channel we have, and we decided to go on a strike"
"When we started working with Wolt, two years ago, they were paying 3€ for every delivery. After some time, they reduced the payment to 2,60€, then 2,50, then 2,40 and now they want to lower it even further, to 2,26€. If we dont react now, maybe they will want to pay us even 1,5€!"
"We used to take 50 cents compensation per kilometer for deliveries that were more than 1klm away from our spot. On a rainy day, we were taking extra conpensation. This was 1,10€ for every delivery. These compensations were cut without any prior notification"
So, while inflation is skyrocketing, Wolt, instead of raising salaries, procedes to reduce them. The average annual inflation rate in the eurozone is around 10%. However, Wolt is cutting 10% off the rates it pays every 6 months!
Special harsh conditions
Wolt delivery workers work under a different regime from other workers in this field.
"We don't get paid by the hour. We are paid for every delivery. Therefore, we may be 'at work', logged in for 1-2 hours but only take one delivery for this whole time."
"It's impossible to calculate exactly what will be the final amount of money we will make at the end of the day."
The delivery workers on strike are mainly students from third countries and asylum seekers.
"We get paid through the fleet managers/agents, who get the money directly from Wolt. This payment includes deliveries, compensations and tips. But the fleet managers keep 40% of the total amount, even from our tips! Ten percent of this commission goes to social security. But 30% is too much, when the agents sit and do nothing while we are working."
There is no legal reason why these workers are employed in this way and not directly by Wolt. The agents make the initial paperwork, but then continue to take the commission every month. According to the representative of PEO (Pancyprian Federation of Labour), who was present on the picket line, the workers sign contracts with the agents that include paid holidays, money to cover accidents, etc. However, the workers get none of these benefits. 
Workers cover all the expenses needed to do their work by themselves. 
"The motorbikes are ours. We are forced to buy all the relevant equipment (delivery boxes, jackets, raincoats, ect) from Wolt. In total, these cost around 130-140€. We are also forced to cover all the expenses for the motorbikes (petrol, oil, service, ect)."
"If we have an accident, nobody cares. The agents don't pay anything, Wolt doesn't pay anything. They don't care"
"Two years ago, the petrol was at 1€ per litre. Today is 1,5€. Whatever we make today goes directly to expenses. There is very little left. It feels like there is almost no reason to work."
Since the strike began, Wolt has not met the worker's demands. Instead, they are trying to distort the picture though some articles in the mainstream media. They try to shift the responsibility to the agents/fleet managers. At the same time, they try to intimidate the workers and have already started to fire some of them. 
"On the first day of the strike, some of us tried to open the app while we were on the picket line and found out that our account was canceled."
During our visit to the picket line (December 16), the company asked the workers to enter Wolt's premises, 10 at a time, in order to "talk". The workers were sure that the company would use these "talks" to cancel their accounts as well, ie to fire them. They demanded to enter the building with the PEO trade union representative. The company refused this request and the "talks" never happened. 
The workers are committed to continue the struggle. They will continue to strike until they get a solution. At the time of writing (December 18) the strike remains solid. But, in order to win, they need our solidarity.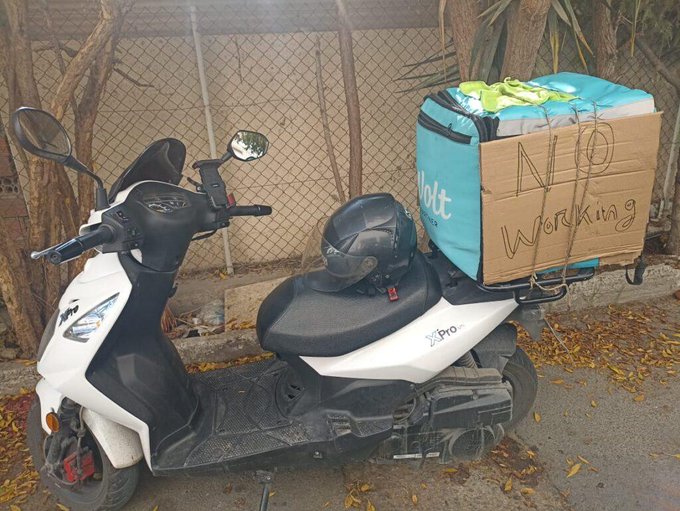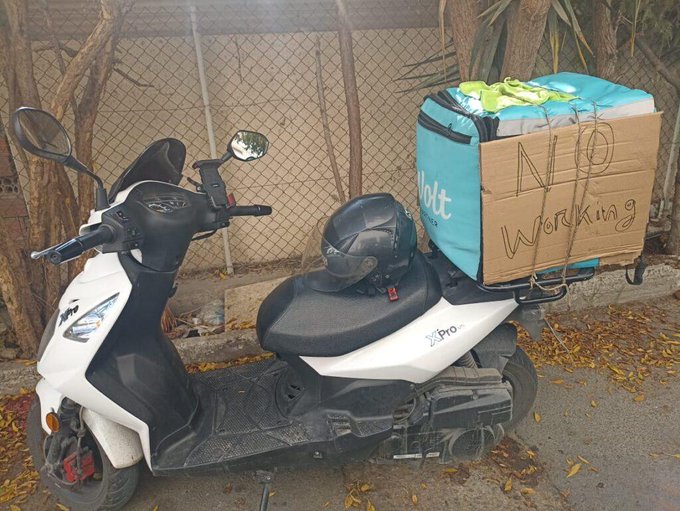 What we can do?
We call for a boycott of Wolt! If people delete their accounts and uninstall their app, the company will face huge pressure on its profits. This was the experience from the successful E-food delivery workers strike in Greece a year ago. If they don't pay their workers decent wages, they should be ready to lose all their customers.
People should spread the word that there is a strike taking place. They should spread the information about the real conditions in which these workers work. The mainstream media, but also racists on social media, try to present these workers as some kind of well-paid layer which makes thousands of euros and still ask for more! They portray these workers as if they want to work in semi-illegal conditions, in order supposedly to make lots of money! We need to answer these slanders with the truth.
People should support the strikers in any way they can, they should visit the picket line outside the Wolt premises in Griva Digeni road in Nicosia. They already have the PEO support which provides them with snacks and water. Let's show our solidarity by visiting them in person.
The demands of the workers are:
Base payment 2,60€ per order, within a 1 km area
Distance payment needs to be 0,50 cents per km area, as was before the recent changes
Pick up and drop off distance must be clearly mentioned in the system
Weekdays should be paid with 3€ per order, Fridays with 4€ per order and Saturdays with 3,5€ per order 
Compensation for difficult conditions, for example when it rains, should be €1.10
Regarding our fleet managers and respective third parties, we request that they decrease their commission percentage down to 30%, including social insurance
We found out that some couriers got their Wolt account blocked by the management team, we request that their accounts be reactivated (ie their lay-offs be taken back)
Some information about Wolt
Wolt is a Finish company which was founded in 2014 and came to Cyprus in 2020.
It operates in 23 countries and over 180 cities, has over 45,000 merchant partners, 90,000 courier partners and 12 million registered customers.
Wolt has raised $856 million in funding from investors. Wolt was ranked second in the 2020 edition of the FT's 1000 Europe's Fastest Growing Companies.
In November 2021, it was announced that Wolt was being merged into DoorDash through an exchange of shares, giving Wolt shareholders a minority of shares in DoorDash for a deal worth $8.1 billion. The takeover was completed in June 2022.
DoorDash is an American delivery company that has been criticized and sued for withholding tips, reducing tip transparency, antitrust price manipulation, listing restaurants without permission, and allegedly misclassifying workers.
Most of this info is published on Wikipedia