In spite of the impression from much of the media that the strike wave in the UK is over, this is far from the real picture. A whole swathe of workers remain on strike, or are beginning strike action. Some groups of workers have settled their disputes, usually because of a union leadership that is too ready and eager to reach a settlement with what appears to be an intransigent government. But the government can only be firm in its resolve as long as the union high ups and the Trades Union Congress refuse to coordinate united strike action and build the real threat of a general strike across the public sector. As reported previously public sector pay rises lagged significantly behind private sector pay rises in 2022 but in 2023 this trend is reducing. According to Statista, wage growth for the year up to September 2023 was 8.5% including bonuses, with the Consumer Price Index (CPI) for inflation at 6.8%, from a high of 11% in 2022. In this context, the public sector pay awards of 5% plus a bonus of between £1,655 and £3,789 for nurses and 6.5% for teachers don't represent a defeat, but rather an unfortunate compromise, which still means that they face an overall reduction in their living standards, but not as great as might once have been feared. A lesson from the strikes that have taken place is that if the public sector workers had not struck their pay increases would have been half of what they eventually received and therefore the action can be seen as a partial victory.
Strikes continue
For other workers, the struggle continues. Junior doctors and consultants have been striking together to win an above inflation pay offer. With inflation now falling, this could be closer to becoming a reality than at one time seemed possible. There are behind the scenes talks going on between the British Medical Association (BMA) and the government, which could result in an offer in the not-to-distant future. Radiographers were also on strike on October 3rd.
The University Lecturers Union (UCU) remains in dispute with 42 universities that took strike action between 25th and 29th September. Unfortunately, close to a hundred branches, that had been set to strike were given the option of opting out by the UCU. This weak leadership of workers who were prepared to act gives a bad signal to the lecturers as a whole and a fresh and vital leadership of that union is required; nominations for the National Executive Committee are opening soon, with the election of a new general secretary in 2024. Many lecturers remain steadfast in their resolve to face up to the corporate bullies that now run UK universities and are attempting to retain terms and conditions that will produce a work-force worthy of the students they serve.
Members of the Public Services Union (PCS) are striking in courts across England. These are security staff, working for the private security firm OCS, who have been made an offer that amounts to no more than 3p per hour in some cases. In spite of a high court ruling, banning the use of agency staff, OCS are attempting to use agency workers to undermine the dispute. These staff are often poorly trained and vulnerable and some have joined the PCS because they can see at close quarters the problems with being an agency worker and the benefits of belonging to a fighting union.
In Scotland, thousands of school cleaners, caterers, support staff and caretakers have begun three days of strike action. UNISON (Public Sector Workers Union), has said that 21,000 of its members are on strike over pay, in response to an offer of 9.57% to the lowest paid workers, but tapering downwards through the pay scales.
The rail strikes continue. They have been rumbling on since June 2022. The rail companies with the government urging them on, used the covid pandemic as a screen to try and introduce new working methods and hit jobs and pay. The attempt to remove guards from trains was successfully rebutted but other assaults on jobs have continued; the attempt to close ticket offices being an example of such cuts and attacks. Although the employers have shifted on pay and this is evidence of the effectiveness of the industrial action and the determination of the workers, the unions are still unhappy with the undisclosed offers being made to them. The RMT (Transport and Maritime Workers) and Aslef (Train Drivers), need to urgently coordinate further industrial action, including strikes and work-to-rules.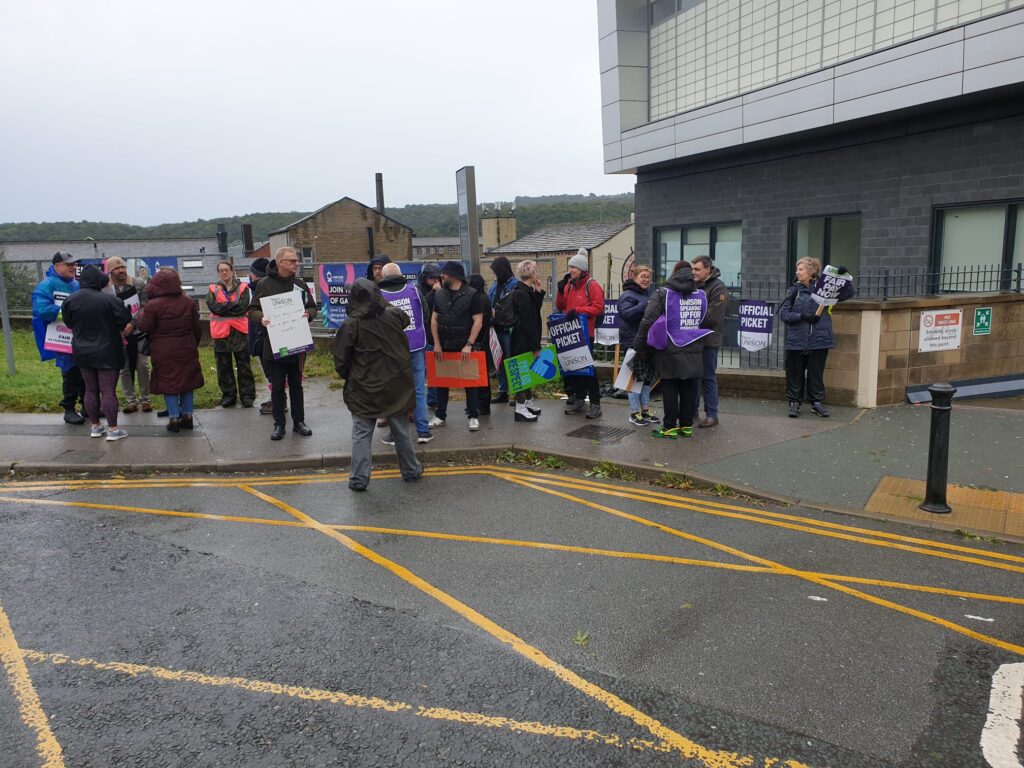 Poor leadership
In December 2022 alone, 826,000 working days were lost to strike action. This is the most in a single month since November 2011. The total number of days lost to strikes between June 2022 and June 2023 was 4.1 million. This is the largest number of days lost to strikes over the comparable period of months since 1989 – 90. There is a perception that the strikes are only a feature of the public sector and it is true that: nurses, teachers, doctors, civil servants etc have been in disputes but in fact a majority of days lost to strikes (54%) were by workers from the private sector because of the privatised transport network but also strikes in communications and storage industries.
The government has been forced to make compromises on pay and the gap between public and private sector pay increases is narrowing. The long-term future on pay is not good however. All of the concession wrung from the government have been hard fought and this apparent resolve of what is a really weak and unpopular government has not really been tested to the limit by the trades unions as a whole. It has been left to the resolve of sectors or groups of workers to lead the way, with their leaders sometimes appearing to act as apologists for the state by compromising on pay when prices are rising and bosses pay continues to rocket.
Keir Starmer's Labour Party has given little support to strikers and there is no indication that workers in the public sector will get a better deal under a new Labour government. Starmer has reneged on all of the left-of-centre promises he made when running for leader of the labour Party and if we are to see a Labour government, they will be neo-liberal in nature and attempt to manage the crisis of capitalism in the UK for the benefit of the capitalists and not workers.
There are calls for a radical alternative. Calls for a new worker's party, a Stop Starmer Campaign initiative in London, attempts to set up alternative parties, Enough is Enough, Peoples Assembly, Trades Unionists and Socialist Coalition (TUSC) etc. The list goes on. There are also calls for Jeremy Corbyn to stand in the next election as an independent. All of these disparate efforts will amount to little unless gaps between the different organisations can be bridged. In Calderdale for example there is a project to run a socialist candidate at the next election, but unless this projects links up with similar projects across the UK, then it will achieve little. For example, TUSC should avoid running against other candidates with a socialist programme but where TUSC is strong and can run a meaningful campaign, then others should support them and work with them. There are a lot of socialists out there and even more, especially amongst the youth who strongly support socialist ideas. There is huge disillusionment with the Labour and Conservative parties, but frustration at the lack of any realistic alternative to them.
In the unions, it is vital that left candidates stop standing in opposition to each other, as they repeatedly have done in the past. UCU and PCS both are heading for the election of new general secretaries – it should be automatically the case that the left puts forward one radical candidate for the position. Sharron Graham (Unite general secretary) is a good example of a left candidate who can make a positive difference in her union but she needs to be supported by other radical fighters across the union leadership who are prepared to put aside nuanced differences in order to promote the interests of the working class.
Inspirational figures
Meanwhile the fight goes on. The really inspirational figures emerging out of these disputes are those workers, many coming into struggle for the first time who really do lead by example. At Amazon for example, workers have been sacked for being in a union but in a recent dispute many were prepared to join demonstrators who came to the Derby distribution centre to protest against Amazon's totalitarian approach to trades union rights. They stood shoulder-to-shoulder with the demonstrators in spite of the presence of Amazon security and spies.
This example should inspire all workers who believe that they and not the bosses are the engine of the future. It is workers who create the materials we need to feed and clothe the world and workers who have the resourcefulness and capability to see a future that is free from exploitation and poverty. The union tops and others in the movement should remember this simple truth and lead the struggle or get out of the way.