Is it possible that a 'clean-up' operation and an environmental restoration attempt in an area such as the Niger Delta, that has been soaking in oil spills for decades, can make things worse? It is, indeed.
According to a recent long report published by Bloomberg, the immensely advertised contamination clean-up, that begun in 2019 by the Nigerian government alongside the United Nations and the Dutch-British oil company Shell, has led to further environmental destruction and is accompanied by a complete lack of transparency on financial figures and methods employed for the task at hand. 
How did one of the most important ecosystems on the planet reach a tipping point?
A Brief Background
This November it will be 27 years since the execution of Ken Saro-Wiwa and 8 other activists from the Ogoni tribe, by the Sani Abacha dictatorship (1993-1998), under false murder accusations. The 'Ogoni 9', as they have come to be known, had managed to provoke serious headaches to the operations of Shell, that had, for decades, extracted oil from this area (as well as other surrounding territories in the Niger Delta), causing devastating destruction to the environment and local economies.
The 9 activists were leading a mass movement founded to oppose this environmental destruction and exploitation of their ancestral land. At its peak, the MOSOP (Movement for the Survival of the Ogoni People), would mobilise hundreds of thousands of people to take to the streets, inflicting fear on to the Dutch-British multinational company. Shell, with the help of one of the most hated dictatorships on the continent, managed to get rid of the MOSOP leaders, but the combination of mass movements that had already taken place, in addition to international outcry for the murder of the 'Ogoni 9', led Shell to cease extractions in this area (albeit, they continue their operations in other parts of the country).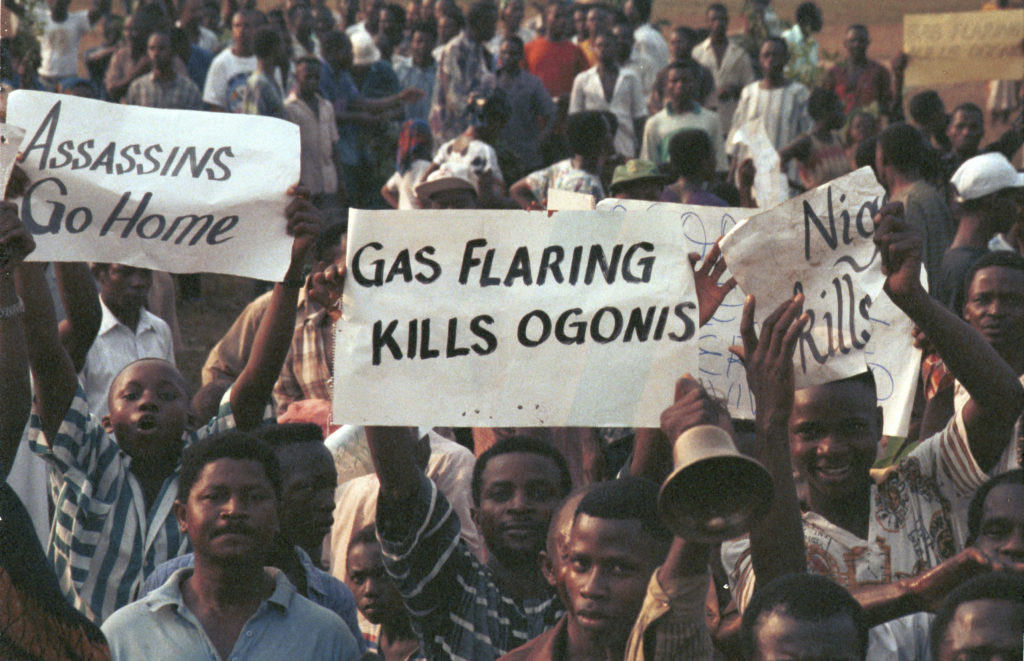 In recent years Shell has attempted to better its image by funding and participating in an oil spill 'clean-up' operation in the Ogoni area. It appears though that the results of this 'clean-up' are consistent with its filthy past.
The 'clean-up' operation
According to the Bloomberg report, the 'clean-up' process involves the removal of large amounts of oil-soaked soil from the ground. However, this soil will be moved and stored in uncontaminated areas without the implementation of any meaningful safety procedures. This poses a significant risk for secondary contamination of clean grounds and creeks by dangerous chemicals leaking out of the polluted soil.
In addition, it has been noted that the trenches used for soil clean-up are badly designed and not at all leakproof, which leads to oil spilling onto clean layers of the ground.
The job has been contracted to various firms, the majority of which have not yet shared the chemical protocol which they use to clean-up the contaminated soil with the relevant UN agencies (data from which forms the basis of the Bloomberg report). In addition, some of the contracted firms have little environmental clean-up experience, whilst others are primarily palm-oil manufacturers or chicken-farming companies!
This year's budget for the project has been estimated at 296 million dollars (approximately 300 million euros), which is 8.5 times bigger than what was spent last year. The clean-up has a total budget of 1 billion dollars. However, in reality, a large chunk of that budget is at risk of getting lost along the way…
As has become increasingly clear to local monitoring agencies, the clean-up process lacks clarity, both in terms of finances and effectiveness and is accompanied by numerous serious unanswered questions.
The destruction of a valuable ecosystem and its local residents
The Niger delta extends in an area of 100,000 square kilometres (approximately the size of Bulgaria) with a population of 30 million residents. The delta was once an area rich in biodiversity and natural beauty, consisting of labyrinthine waterways and mangrove forests [1] where local communities could prosper by farming and fishing.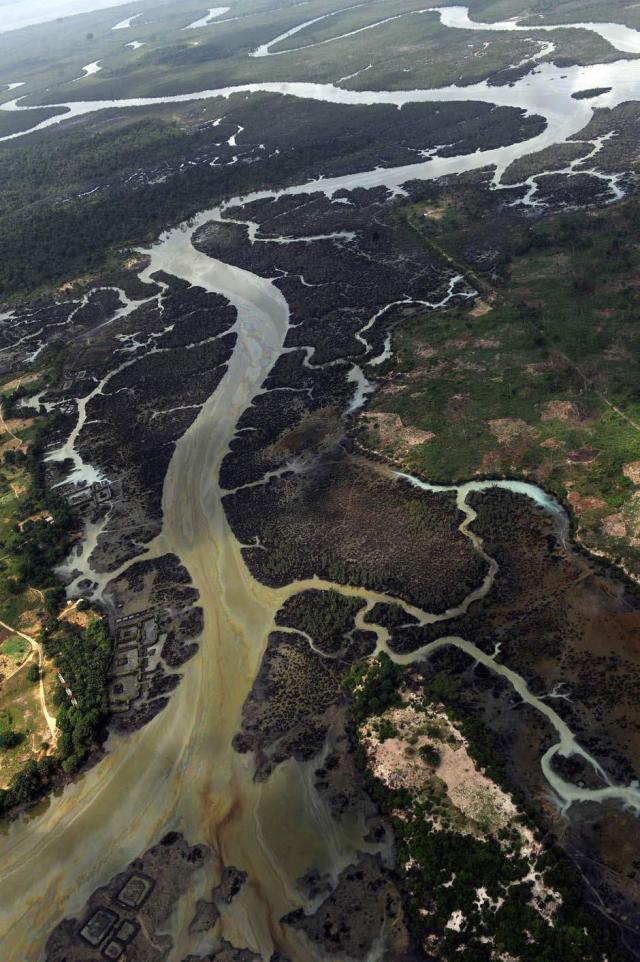 Currently a large part of this land has experienced severe destruction from the thousands of oil spills (big and small) that have occurred during oil extractions and transfers, whereas the parts that remain unaffected are under immediate threat. If destruction continues with the same rate, it is estimated that within the next 50 years the mangrove forests of the Niger delta will have completely vanished.  
The public health consequences from living near contaminated land are also rather dire, as recent research has indicated that the health risks involved are far more serious than previously thought. According to a recent study, children born form mothers that live near oil spills are twice as likely to die within the first month of life. Similarly, mothers are twice more likely to die from haemorrhage during labour if they have lived in an area that is contaminated with oil spills. 
Their audacity has no end
Even after everything, the most hated oil company in the world, insists that it is not responsible for the Niger delta catastrophe. In a provocative video, Shell accuses 'local thieves' for the oil spills, who work for illegal distilleries and sell the stolen oil to survive. In other words, Shell is putting the blame on locals who have been stripped of their livelihoods, since traditional activities such as farming and fishing, which have fed local communities for centuries, are now obsolete due to its destructive practises. 
In this provocative video they mention:
«A lot of oil spills are occurring because of violence and vandalism; a lot are occurring because of oil theft. More than 70% of all oil spilled from the facilities of the Shell Petroleum Development Company in the Niger Delta over the last 5 years was from sabotage caused when thieves damaged pipelines and wellheads».
Even if we were to consider that the facts that Shell is presenting are true (even though we have no reason to do so, as all we have is their 'word'), it is noteworthy that the destruction of the area did not begin five or even ten or fifteen years ago.
Shell begun oil extraction in the Niger Delta in 1958, two years prior to the declaration of Nigerian independence. It has recently been convicted and forced to pay compensation to local farmers for oil spills that have occurred as far back as the 1960's! Furthermore, the 'theft' that Shell is accusing the locals for, takes place in older facilities that have been long abandoned and left to rot and pollute the region.
In other parts of the video, Shell tries to convince us that it is concerned about the dangers that local 'thieves' face, due to their desperate actions (it is true that working in underground oil distilleries can often lead to deadly accidents) and ironically condemns the large financial interests and mafias that take advantage of them…!
A gloomy future?
Currently, Shell has informed us that it is interested in expanding its operations in Nigeria, in order to take advantage of the local natural gas resources, whilst further planning to commence underwater excavations.
Undoubtedly, if these plans go ahead, additional, more extensive, destruction will follow, both for the environment and the local economy. Building new mass movements of resistance to the destruction, which should spread to the whole of the country, as well as international solidarity and coordination, are the only means that people have in order to put a brake on those plans. 


---
[1] Mangroves are forests that consist of trees that grow in salt water, and specifically on river estuaries. This is where rivers meet the sea. Parts of the tree trunks and branches are above the water and become refugees and breeding grounds for many types of fish and other marine life.