By Antinazizone/YRE
The 30th Antinazi Zone-YRE summer camp took place from July 21 to July 30 and was a resounding success. This year, our camp was hosted at Camping Dias near Gytheio in southern Greece. In total, 250 people took part. Unfortunately, our camp coincided with one of the most severe heatwaves in decades. In Gytheio, the temperature reached a staggering 47 degrees Celsius. Once again, this served as a stark reminder that climate change is indeed a reality with devastating consequences for people's lives.
Despite these challenging circumstances, the camp's spirit remained unbroken, and participants enthusiastically engaged in all the activities. Right from the outset, we adjusted to the demanding conditions by scheduling our discussions either earlier in the morning or later in the afternoon, avoiding the hottest hours of the day.
Throughout the camp, we conducted a wide range of discussions, including topics such as Pushbacks against refugees in the Mediterranean, Challenges and dangers of Artificial Intelligence, The surge of the far-right in Greece and Europe, The social trends behind the popularity of Hip-Hop and Trap music, Workers' struggles and social movements in Europe, The battle against water privatization, and the Interconnection between antifascist, feminist, and LGBTQI+ movements, among others.
Participation in these discussions was lively and debates were vibrant, with participants posing numerous questions and sharing insightful comments. The schedule also included two daily movie screenings (one for children and one for adults), two excursions, a beach volleyball match between 'boomers' and 'zoomers,' a captivating juggling performance, and ample free time for socializing and resting. For the first time this year, we introduced a 'children's assembly,' where kids came together to discuss matters and concluded by presenting their 'demands' to the 'older' attendees.
Throughout the camp, we maintained a self-organized canteen that offered coffee, breakfast, lunch, dinner, along with beverages, BBQ options and snacks, all featuring vegetarian choices, at affordable prices.
Additionally, we hosted three live events featuring a diverse range of music, from Greek folk to rock and Afro-funk.
We should note that activities were planned to avoid disturbing the sea turtles that lay their eggs on the beach right in front of the campsite. This consideration led to no beach parties or concerts being organized during any evening.
Our primary aim was to establish a camp over ten days that reflects the world we aspire to build- marked by respect and solidarity among individuals and towards the environment. During the camp, we sadly bore witness once again to vast swaths of forests, wildlife, and human lives being ravaged by wildfires. The government's neoliberal policies, which allocate insufficient funds for both fire prevention and firefighting services, fueled our outrage and provided us with even stronger motivation to fight for a more equitable society.
Below we publish some extracts from participant interviews sharing their camp experience:
Gianna Goula, Worker – Athens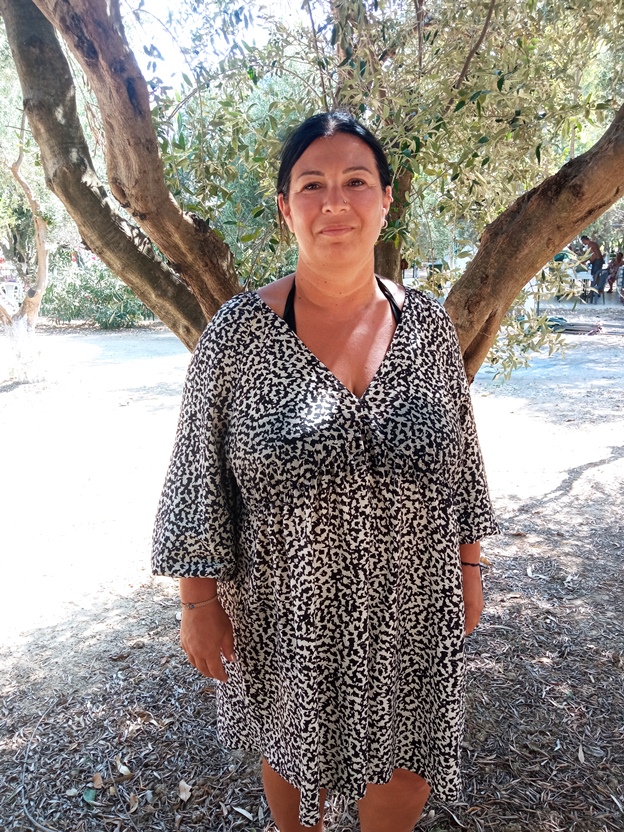 Gianna, you attended the camp for the first time, along with your two 10-year-old sons. How did you learn about it?
I've known about the Antinazizone summer camp for several years. I wanted to participate, but I didn't want it to be just a vacation; I wanted to engage in all camp activities with my children. Camping is our preferred holiday choice, so we're familiar with the setup. When I saw a poster this year, I felt it was the right time to come since my children are at an age that allows all of us to be actively involved. That's how it happened!
So, how was this experience for you?
Camping holidays already give us a sense of freedom because the kids are more independent. This summer camp amplified that feeling since I knew there were many people who could assist if needed. The overall atmosphere of the summer camp was very family-friendly. Perhaps having a designated 'meeting point' for children, like a table in the discussion area with markers and paper, where kids who want to meet their friends can gather, would be helpful. But that's a minor point. Generally, the camp exceeded my expectations. Both my children and I had a fantastic time. We felt at ease from the beginning, and despite coming without knowing anyone, we made new friends. We've even arranged to meet up with people after the summer and, of course, at next year's summer camp.
Did you enjoy any of the camp's discussions?
I particularly enjoyed the discussion about AI. The topic was presented well, and I learned new things. The talk about connecting feminist and anti-fascist struggles also resonated with me. It made me feel more connected to the other attendees. Women's personal experiences shared during the discussion touched me, highlighting how every woman carries a story tied to the feminist movement's demands. For me, the discussions were chances to bring up such topics in personal conversations, share workplace experiences, and exchange viewpoints. Meeting people with similar mindsets who face the same issues was truly liberating!
Towards the end of our chat with Gianna, her son Stefanos asked to share a few thoughts about the camp. He was impressed by the granola bars in the canteen, the juggler, the delicious food, and the fantastic cook. He made 13 new friends and hopes the campsite could be even bigger (presumably so as to expand their activities with his new friends).
Jo Michaloglou, University Student – Thessaloniki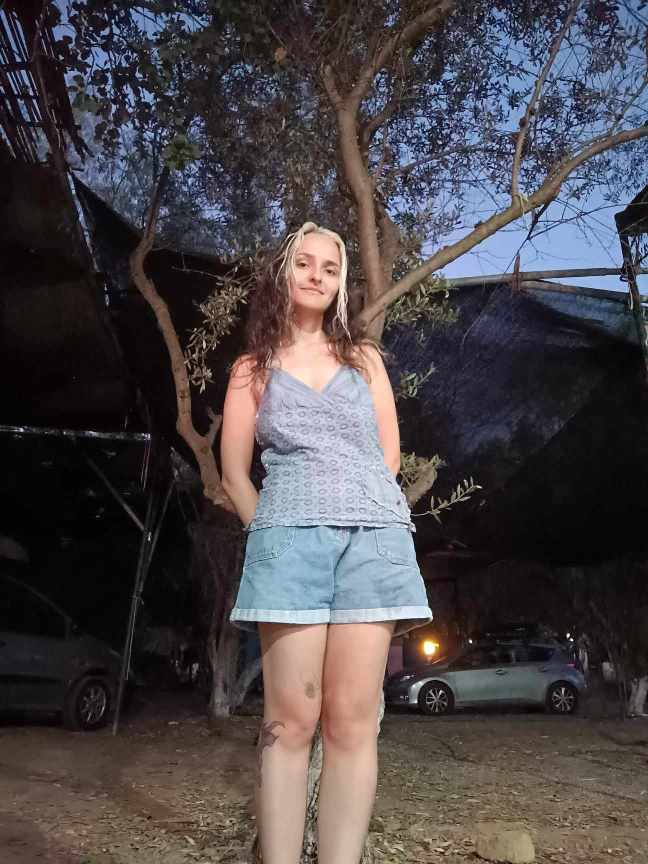 Jo, you first came to the camp in 2015 with your mom. Now you come with your own friends. Can you tell us about your experience?
In 2015, I was 13 years old and still in the phase of family holidays, which I thoroughly enjoyed. So, initially, I joined the camp for a vacation with my mom and brother. As time passed, I became more intrigued by the program and discussions. It transformed from a budget-friendly family vacation, which is valuable on its own, to a meaningful experience I want to share with my friends.
This year you also led off in one of the discussions.
Indeed, and I found the process very enjoyable! I made one of the three lead offs on Trap and Hip-Hop music. I enjoyed reading and formulating ideas to share. I also greatly appreciated the discussion that followed. Meeting new people and exchanging perspectives is truly captivating. I sensed that this year, youth participation in discussions was more dynamic. We took on many of the lead offs, made numerous contributions, and so on, which I find to be highly important.
Mihnea T., University Student – Romania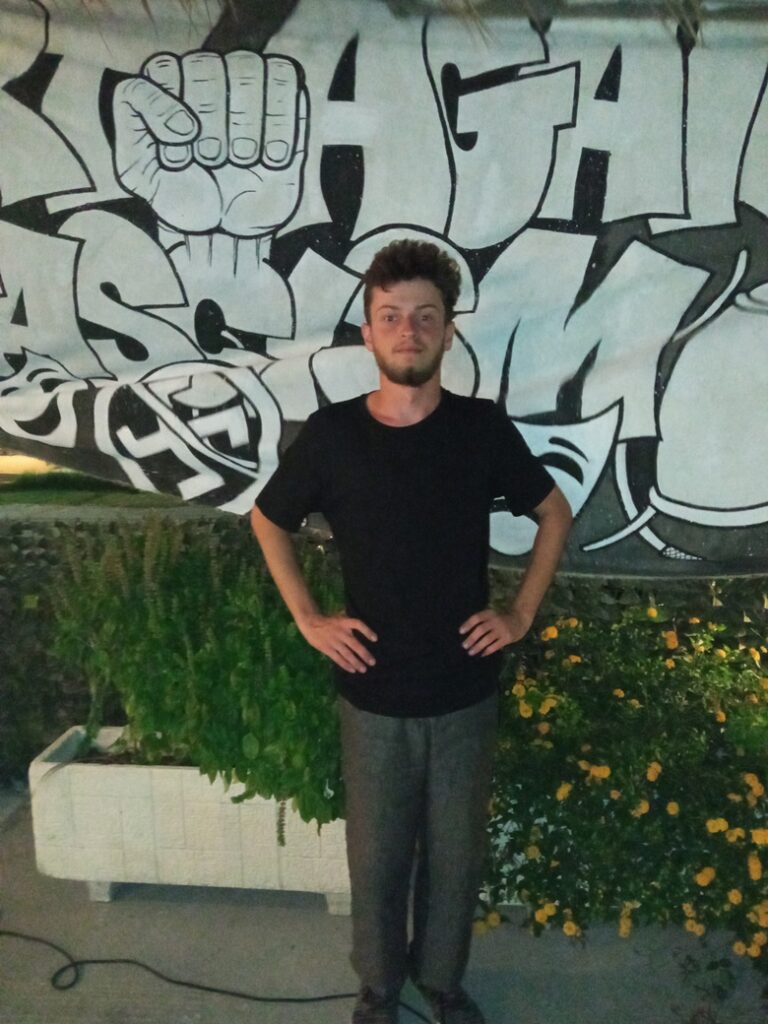 Mihnea, this is your second time participating in the camp. What are your impressions?
Once again, I had the chance to combine holidays with political discussions, which is crucial to me. In fact, I enjoyed the sea, the campsite, and the surrounding area even more this year compared to last year. While I was content with all aspects of the camp, I hope to see more discussions organized next year. The discussion on Artificial Intelligence stood out for me, especially since it was a topic I didn't know much about.
What's it like being in a place where your native language isn't spoken by anyone?
Contrary to what someone might expect, it was easy to meet new people and engage in numerous conversations. This is the most significant experience I'm taking back to Romania. Despite being one of the few non-Greek speakers this year, I always had an interpreter present in conversations, which I truly appreciated. Most people spoke English and were more than willing to speak with me at any time.
Are you planning to participate in the camp next year?
Absolutely! The Antinazizone summer camp has been an inspiration for us in Romania (Mihnea is part of the newly founded Socialist Action Group – GAS), and we're considering organizing something similar next summer. Ideally, participants from Greece could join our camp, and participants from Romania could attend the Greek one!
Aggeliki Valsamaki, Worker – Athens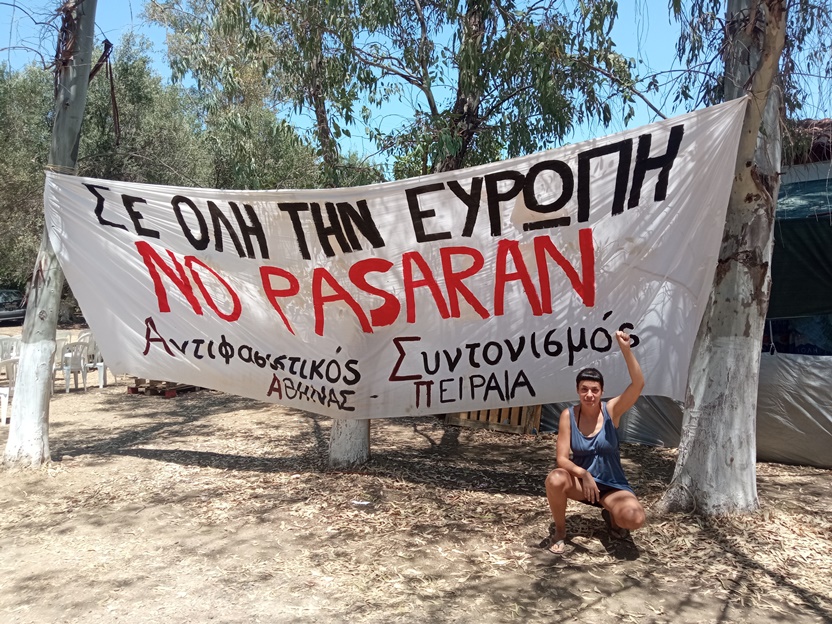 Aggeliki, you have experience from summer camps of a political nature, so you likely had certain expectations when you joined. Did the experience match your expectations?
After many years without attending a camp with a political character, I must admit that it surpassed my expectations. It was impressively well-organized, and right from the start, I sensed the creation of a "community" filled with joyous and selfless faces. I felt an immediate closeness to everyone there. The atmosphere fostered openness to diverse people and viewpoints. Practical self-organization thrived, and all participants played their part. Each individual felt responsible for the smooth operation of the camp in a calm and "natural" manner.
As someone who has political experience, what did you take away from the discussions?
I was positively struck by the active involvement of young people in the discussions, particularly in the lead-offs. Trusting them to lead the discussions was an excellent move by the organisers. I wholeheartedly support this approach, which challenges the traditional notion of "leadership" dominating discussions and lead-offs. This bad approach typically sidelines young people or less experienced individuals from actively engaging in discussions. The Antinazizone camp took the opposite approach. It wasn't the same people speaking every time; everyone had a chance to contribute, speaking up when they had valuable insights to share. This empowered people who often hesitated or felt uneasy speaking in public, giving them confidence to participate. I also found the opportunity to hear diverse perspectives highly positive, and inviting a representative from the Anti-Fascist Coordination of Athens and Piraeus to lead off on the discussion about the far right was a commendable move.
Aggeliki, these observations sound wonderful. Does that mean you'll return next year?
Absolutely! The kids had an incredible time, my son enjoyed a sense of autonomy, which is essential for him and gives me peace of mind. It's a fantastic holiday option for those on a tight budget, offering affordability without compromising on food quality or entertainment. The music selections were great, both in the live events and the DJ sets.
Vicky Doulougeri, University Student – Mytilene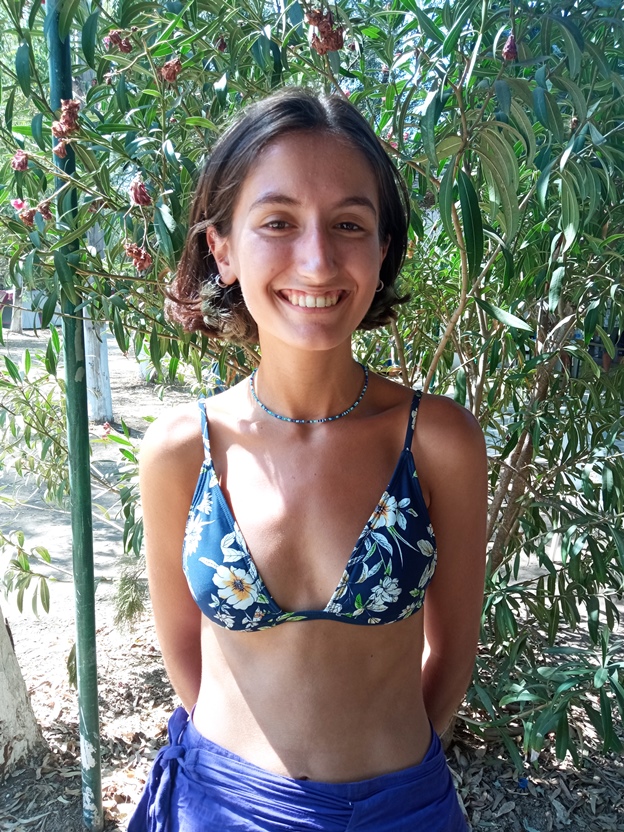 Vicky, you came with friends and had heard stories from other participants who have been already in past summer camps. Did those descriptions match your experience?
Yes, and in fact, it exceeded my expectations. Despite having camped multiple times, this was my first experience with a summer camp of this nature. While I was initially a bit cautious about what to expect, I ended up having a wonderful time. Despite being among many people I didn't know, everyone was open and friendly!
You participated in several discussions…
I attended all of them, except for the days when there were parallel discussions, where we had to choose one of two options! I particularly enjoyed the discussions on the feminist and anti-fascist struggles, the pushbacks and the broader refugee issue, the far right, and Artificial Intelligence. Surprisingly, I felt comfortable enough to speak in two of these discussions, sharing my personal experiences and opinions.
Did you also engage in other camp activities?
Yes, I joined both organized excursions and enjoyed them both, though the trip to Monemvasia stood out. I also relished all the live music events, with the funk night being my favorite! I'm taking all these memories home with me, especially the sense of openness for everyone who participated!
Kimonas Koutsakis, University Student – Mytilene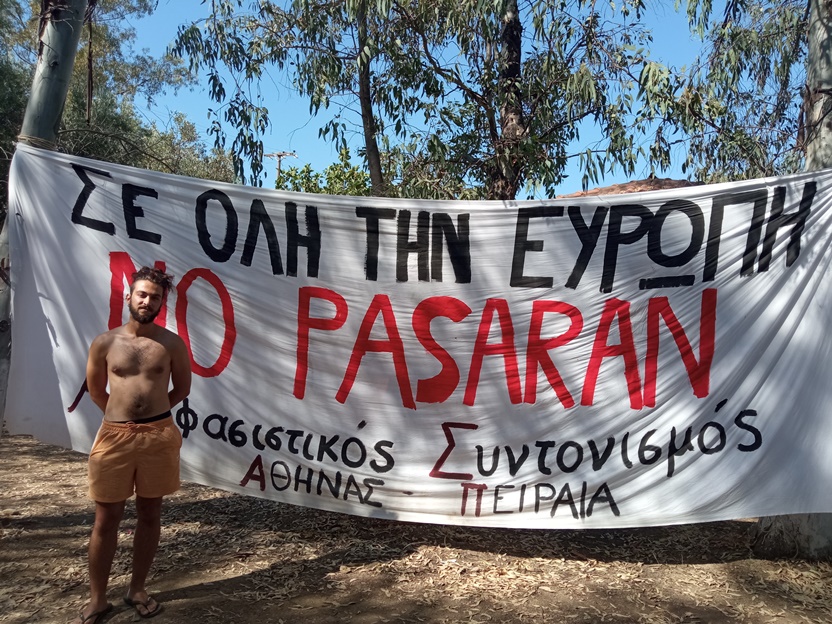 Kimonas, you were part of the group that arrived early to help prepare the camp. How was that experience?
Actually, we had a lot of work, but the satisfaction of contributing to ensure everyone had a great time outweighed it. I appreciated the very positive atmosphere among us. We formed a tight-knit group that worked hard during the day and relaxed in a warm, friendly atmosphere afterwards. I'm definitely joining the preparation team again next year!
And then the camp started… How was it for you?
I felt the same sense of unity, that we were all one large family, devoid of formalities and immersed in a delightful atmosphere. I particularly experienced this among people my age, as we formed one big group. Making new acquaintances, friendships, and exchanging hugs perfectly encapsulates the prevailing atmosphere.
Was there anything else that stood out for you?
Absolutely, the camp's political nature, not just in organized discussions but also in personal interactions! I particularly enjoyed the discussion about Hip-Hop and Trap music, despite it not being my preferred genre. This discussion challenged me to listen to it from a different perspective. I also appreciated the discussion about water privatization, a topic I frequently encounter in my geography studies. Though I'm inexperienced with speaking to large audiences or using microphones, the camp's atmosphere allowed me to do so. The recognition that every opinion matters, is respected, and encourages productive dialogue was particularly striking. The camp provided an opportunity for me to learn new things while having holidays. I went on excursions, had a fantastic time, and will surely return next year!