Despite Nigeria's vast farmlands and abundant rainfall, which facilitate crop growth, millions of Nigerians continue to live in abject poverty. Many lack access to food or the means to afford it. Several factors contribute to this dire situation. Corruption is rampant within the country, and insecurity persists in many regions, with farmers facing attacks from bandits and terrorists. However, the most significant underlying issue is the capitalist and imperialist mode of production, which benefits the rich while depriving the poor of basic means of subsistence.
Food insecurity is a global problem, affecting an estimated 821 million people as "chronically undernourished" in 2019, according to the UN. Paradoxically, despite millions going to bed hungry, the world produces enough food to feed over 10 billion people, surpassing the world's population by one-and-a-half times. Global capitalism and its representatives bear responsibility for this deadly food shortage.
On January 18, 2022, a glaring example of corruption within the Nigerian system came to light when then-President Muhammadu Buhari unveiled a massive pyramid of rice harvested by farmers to repay bank loans they had taken to expand their production. Aerial views showed bags of rice in Abuja, Nigeria, and were widely publicized by the administration's supporters. However, the pyramid mysteriously disappeared a few days later, raising questions about why an administration that claimed to have spent billions of naira on the agricultural sector needed to display a fake rice pyramid when food scarcity was evident throughout the country. The Nigerian ruling class is known for its corruption, and similar deceptive tactics have been used before.
For instance, on May 27, former Minister of Aviation Hadi Sirika, alongside former President Muhammadu Buhari, allegedly unveiled the new national carrier, Nigeria Air, just 48 hours before Sirika left office. This unveiling included contracting Ethiopian Airlines to provide an aircraft painted in Nigeria Air's colors with the logo, which was flown into the country for unveiling without the necessary certification from the Nigerian Civil Aviation Authority, NCAA. Subsequently, both the National Assembly members and the public criticized this deception.
Another disappointing incident involved the commissioning of an uncompleted refinery on May 22, 2023. According to the BBC, "Africa's biggest oil refinery has been opened in Nigeria, where it is hoped it will alleviate chronic fuel shortages. Nigeria is a major oil producer, but most of this is sent abroad while it has to import the refined fuel used in vehicles and elsewhere. As a result, the country often faces chronic fuel shortages." The $19 billion refinery, owned by Africa's richest man, Aliko Dangote, supposedly aimed to address this issue.
However, despite President Muhammadu Buhari's optimistic statements during the official commissioning, stating that "This is a game-changer for the Nigerian people," and "our first product will be in the market before the end of July or beginning of August this year [2023]," the Dangote Refinery had not begun production weeks after the promised deadline. This is not an isolated incident; Nigerians are often skeptical of government policies that promise relief, as their implementation frequently falls short.
On July 13th, President Bola Tinubu declared a state of emergency to address rising food prices and shortages. The government claimed that some initiatives included using money saved from the recent removal of a fuel subsidy to provide fertilizer and grains to farmers. However, there are concerns that much of this aid may end up in state governors' pockets or be distributed to party members due to a lack of accurate data on the poorest individuals in need of food. Attempts to resolve one crisis can inadvertently create another, as seen during the COVID-19 pandemic when essential food items were hoarded by the wealthy, leading to widespread public outrage.
Food insecurity
Food insecurity in Nigeria is a pressing and escalating issue. Shockingly, it was reported that in 2021, 7 out of 10 Nigerians did not have access to enough food. The situation has been further exacerbated by annual flooding, which began towards the end of September 2022. Tragically, more than 600 people have lost their lives, and millions have been displaced across the country due to these floods.
Numerous factors contribute to the widespread hunger experienced in various Nigerian federal states. Insecurity, unemployment, attacks on farmers, economic challenges, and environmental factors, such as habitat destruction and the devastating effects of climate change, all play significant roles. Large-scale farmers, driven by profit motives, contribute to food price inflation through artificial scarcity. The phenomenon of mass hunger coexisting with substantial unsold food supplies is a tragic outcome of a system that depresses wages to their bare minimum and condemns hundreds of millions to unemployment.
According to UNICEF, the October 2022 Cadre Harmonisé, a government-led and UN-supported food and nutrition analysis, warned that 25 million Nigerians were at risk of facing hunger between June and August 2023 (the lean season) if urgent action was not taken. Food access has been severely impacted by ongoing violence in the northeastern states of Borno, Adamawa, and Yobe (BAY), as well as armed banditry and kidnapping in states such as Katsina, Sokoto, Kaduna, Benue, and Niger.
The National Emergency Management Agency reports that widespread flooding during the 2022 rainy season damaged over 676,000 hectares of farmland, leading to reduced harvests and an increased risk of food insecurity for families nationwide. Flooding is just one of the effects of climate change affecting Nigeria, and more extreme weather patterns with significant impacts on food security are expected in the future.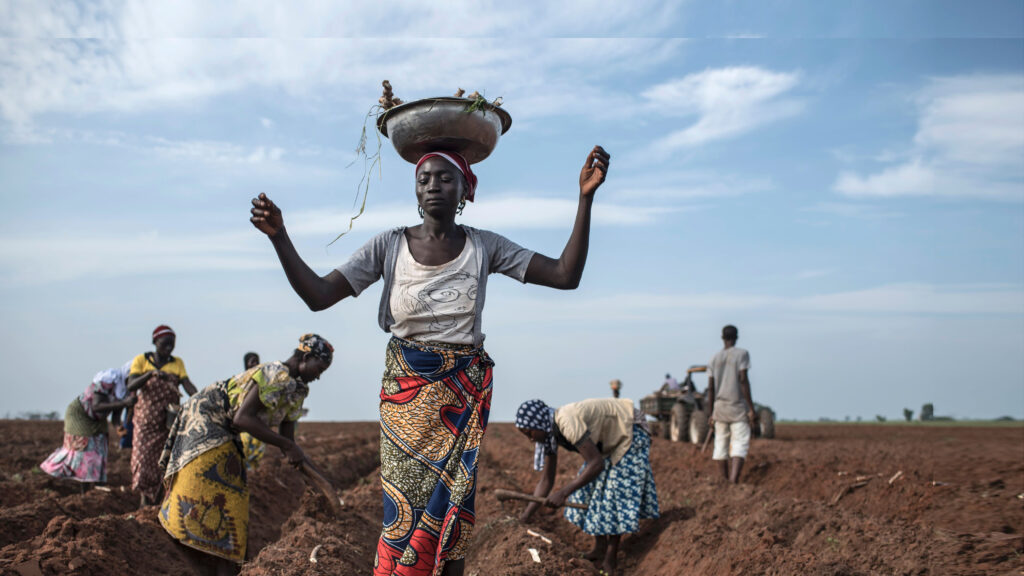 Additionally, the cost of transportation has surged since the removal of fuel subsidies, with transportation prices doubling. This has had a substantial ripple effect on the prices of food. In recent months, Nigeria has witnessed incidents where people broke into warehouses to loot food supplies. For instance, residents of the Kpansia neighborhood in Yenagoa, Bayelsa state, raided a warehouse to secure food for their families.
Food riots and organized armed robberies are likely to increase unless swift measures are implemented to address these pressing challenges.
A Socialist Alternative to Food insecurity
The current administration under Bola Ahmed Tinubu is not going to successfully address the pressing issues facing millions of ordinary workers. It has become increasingly evident that the first 100 days in office have merely extended the policies of the previous Buhari government and, in fact, has implemented some of the most draconian measures against the Nigerian people. It is crucial for Nigerians to mobilize and take action to demand humane living conditions.
The continued deepening of anti-poor and pro-rich policies has had a profound impact on the masses, and this trend will continue unless there is a conscious effort to push back. Food insecurity is a significant crisis affecting millions of Nigerians, particularly the most vulnerable, the elderly, and those in working-class communities. The welfare services provided by states have failed to adequately support these marginalised groups.
As the government seems poised to continue down this path, it falls upon the people to take action and demand a change of course. They should question the whereabouts of the food and money sent by the federal government and hold leaderships in each state accountable for their distribution. The only way to do this is through the establishment of control committees in workplaces and neighbourhoods to oversee the distribution. Urgent measures are needed, including the establishment of emergency funds and an increase in the minimum wage, as well as price caps in basic goods. Additionally, removing taxes on workers' salaries would provide much-needed relief. The funds to support these policies can be found by taxing the capitalist class, those who have hugely profited on the backs of the people all the previous years.
Providing nutritional food for all is a fundamental human right, but capitalism has made it impossible. It is within our power to meet the food needs of every person while prioritizing health and sustainability. However, this requires removing the profit motive from food production. While big farmers and agricultural scientists possess sustainable farming techniques, their application requires the nationalization of large agricultural companies. In transportation and processing, we must reduce our reliance on fossil fuels like petrol and diesel, a goal achievable through a socialist planned economy, organised in an environmental friendly way, which can ensure affordable and abundant food for all.
Furthermore, we need to fight for democratic control and social ownership of key sectors of the economy to ensure equitable access to free, high-quality food regardless of one's location. The fact that millions go hungry despite an abundance of food is a failure of capitalism. Only through the working class taking charge of production, distribution, and removing profit-driven motives can we put an end to this injustice.