Mass protests broke out towards the end of March in Kenya. Many people in the Mathare and Kibera neighbourhoods of Nairobi confronted the police by burning tyres and throwing stones, while police officers responded with tear gas. Until today, two civilians and a police officer have been killed, while more than 400 were injured, according to government figures as reported by mainstream media.
On April 2, the leader of the main opposition party Raila Odinga called off the biweekly protests saying "We stand down our demonstrations for Monday, that is tomorrow, April 3, 2023" but "reserve the right to call for demonstrations should this process not bear fruit". The process referred to is a proposal for bipartisan dialogue by the standing president William Ruto. Ruto also dropped charges against 4 opposition MPs.
Election result controversy
The main demands the opposition leader Raila Odinga emphasised were the accusation to William Ruto of stealing last year's election and his government's failure to control the high cost of living.
Odinga challenged the result of the 2022 elections but was defeated in the Supreme Court. Addressing protesters he said "Kenyans must get justice. We will not relent". Many protesters were waving green foliage as a sign of peaceful demonstration.
"The cost of living is rising every day and we are not going to keep quiet. We are telling Ruto that Kenyans are tired," Odinga said.
Odinga cites the confession of a whistleblower who claims that the election results were hacked in favour of Ruto.
Not the first time
This is not the first time in recent years there have been violent protests in Kenya. After the 2007 elections, fighting and clashes broke out which claimed the lives of more than 1,100 people.
In 2018 again, protests erupted when former President Uhuru Kenyatta was re-elected after the Supreme Court earlier nullified an election result and ordered a re-run. The opposition leader Raila Odinga boycotted the new election in which around 100 people were killed, mainly in clashes between opposition supporters and security forces.
As mentioned earlier, Odinga has now suspended the protests. Odinga accepted Ruto's proposal for dialogue, but threatened that if there is no meaningful engagement or response they will resort to resuming demonstrations.
According to Reuters, in a statement on Wednesday, eight foreign embassies, including the US and British missions, called on "all leaders and all Kenyans to maintain peace, show restraint, and work toward a swift resolution for the common good of Kenya". The African Union also appealed Tuesday for calm and political dialogue to end the chaos. These pressures seem to have played a role in the current stance of both sides.
It's important to note that Ruto attempts to reshape Kenya's position in the current geopolitical conflict between the West and China over Africa. He has taken a clear stance against Russia about the war in Ukraine, and has leaned towards the US for investments and loans, despite the fact that China is still Kenya's largest trading partner.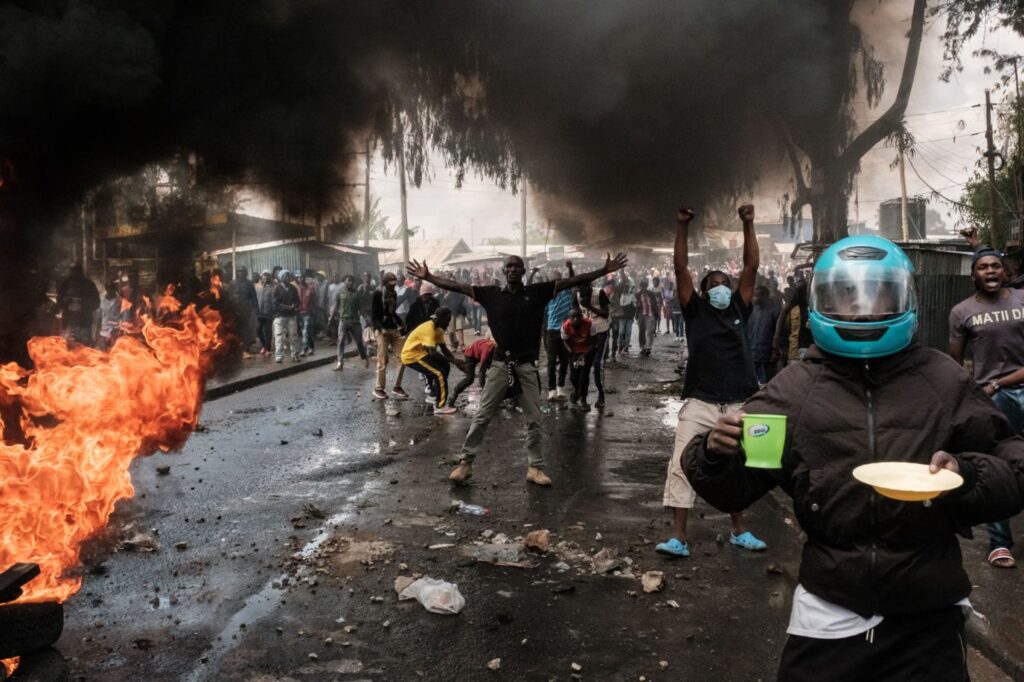 Devastating situation
Like in all African countries, most Kenyans are struggling to put food on their table, battling with high prices for basic goods. According to Science Africa, nearly five million people across 23 arid and semi-arid land counties in Kenya, are facing acute food insecurity. Millions are living in penury. Inflation was running at 9.2 percent in February (and is rising), with food inflation at 13.3 percent. The Central Bank of Kenya has raised interest rates by 75 basis points to 9.5 percent, which means costlier loans for Kenyans.
During his election campaign, Ruto presented himself as defender of the poor and fighter for the oppressed. He promised to make life easy for ordinary Kenyans. But since he managed to get to power, he has removed subsidies on maize flour and fuel, which affected millions. His government also hiked electricity tariffs. Since the beginning of his regime, it has been one anti-poor policy after another. Prices of commodities have continued to increase beyond what poor can afford. The poor are forced to pay through their nose. There is also a sharp drop in the local shilling against the US dollar and the recent droughts have left millions enable to properly feed themselves.
For example, the price of 2kg of maize flour, increased to 179.98 shillings ($1.36) in February 2023, up from 134.79 in April 2022, a huge rise for something that forms the basis of everyday food for most Kenyans.
The crisis will continue
The crisis in Kenya is not going to be resolved anytime soon. The main reason for that is the lack of a genuine alternative for working people. The right wing opposition leaders are taking advantage of the present economic crisis. But many Kenyans, and rightly so, don't trust Odinga because he is part of the ruling class. One example to highlight the right-wing character of both Ruto and Odinga, is that they are both very heavily against the rights of the LGBTQI community. Odinga had stated that homosexuals should be arrested, while Ruto has sworn that he will never allow gay marriage in Kenya, which he says "goes against the country's cultures and religious beliefs".
To organise the resistance against the regime, both on the cost of living crisis and to fight election fraud, Kenyan workers and poor need a class conscious and clear headed party, which is currently absent.
Unfortunately, the Francis Atwoli leadership of the Kenya Central Organisation of Trade Unions (COTU) isn't ready to provide a fighting alternative for the suffering masses. It wouldn't be wrong to say that he is in bed with present and past governments. But struggle will commence. The people of Kenya will uphold the traditions of struggle, and follow the heroic example of people like Dedan Kimathi, who led the military fight against UK colonialism and was executed for that. A country with abundant human and natural resource should break free from imperialism and local capitalism, and use its wealth for benefit of all and not of the few rich and their cronies.