The antifascist movement in Greece is continuing the mobilisation with the aim to cancel the pan-European neo-nazi gathering in Athens which is announced for November 1st.
The campaign was initiated by the Antifascist Coordination of Athens and Piraeus and is conducted by an important number of political and social organisations. The poster of the campaign is signed by 15 social and 14 political organizations representing a wide rage of forces.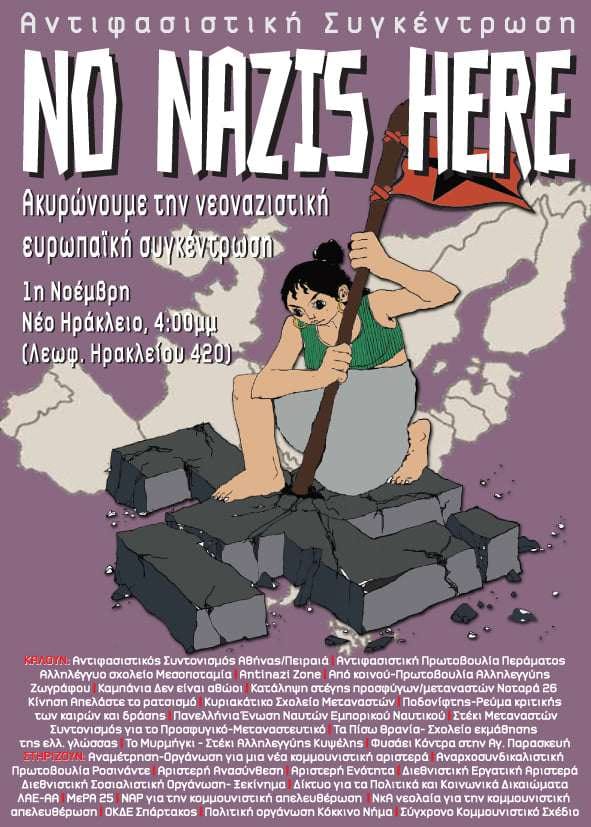 On Wednesday, October 18, the Municipality of Neo Heraklion (where the neo-nazi gathering is set to take place) took an important unanimous decision that the fascist event is not welcomed in the area. The Ministry of Citizen Protection and the Hellenic Police have still not commented on this and have not taken a final decision. Consequently, we continue to mount pressure on them.
A number of unions have joined in the campaign. These include:
-the workers union of the Municipality of Neo Heraklion
-the local Teachers Union
-the Association of Musicians of the Philharmonic Orchestra of the city of Athens
-the Panhellenic Union of Merchant Navy Seamen
-the Association of Book – Paper – Digital Media Employees of Attica
The Union of Parents' Associations in local schools has also pledged support.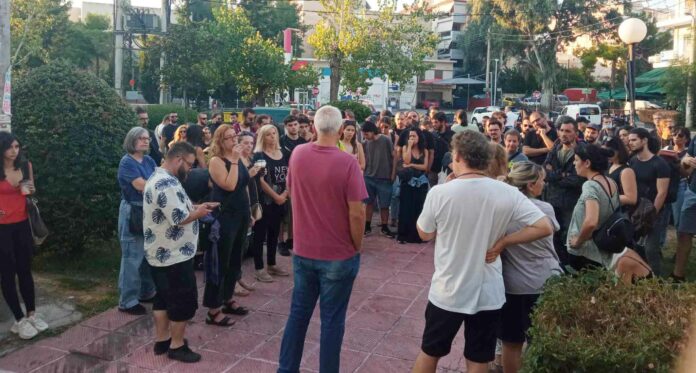 ***
There were also a number of protest letters sent by antifascist groups and individuals from all over the world. We should make specific reference to the letter sent by 5 Irish People Before Profit TD's to the Greek embassy in Dublin and the letter of 2 Workers Party councilors in Umeå, Sweden (read both here).
The Antifascist Coordination also received a number of solidarity letters by left-wing groups and organizations, some of which are:
-the International Socialist League
-the Sozialistische Organisation Solidarität in Germany (CWI section)
-the Workers International Network
– Arran, a Catalan revolutionary youth organization
– Socialismo Y Libertad (SOL) from the Spanish State
– Youth for Socialism (Germany)
– the Promoting Committee of the Meeting of Internationalist Forces (Milan 15-16 July 2023) from Italy
and others.
***
The campaign is also very active on the ground. The poster is being fly-posted all over Athens, leaflets are being distributed widely and there are local open meetings organised every few days to coordinate the campaign. The Antifascist Coordination with the support of the local Municipality workers union is also organising an antifascist concert on October 28 in the area.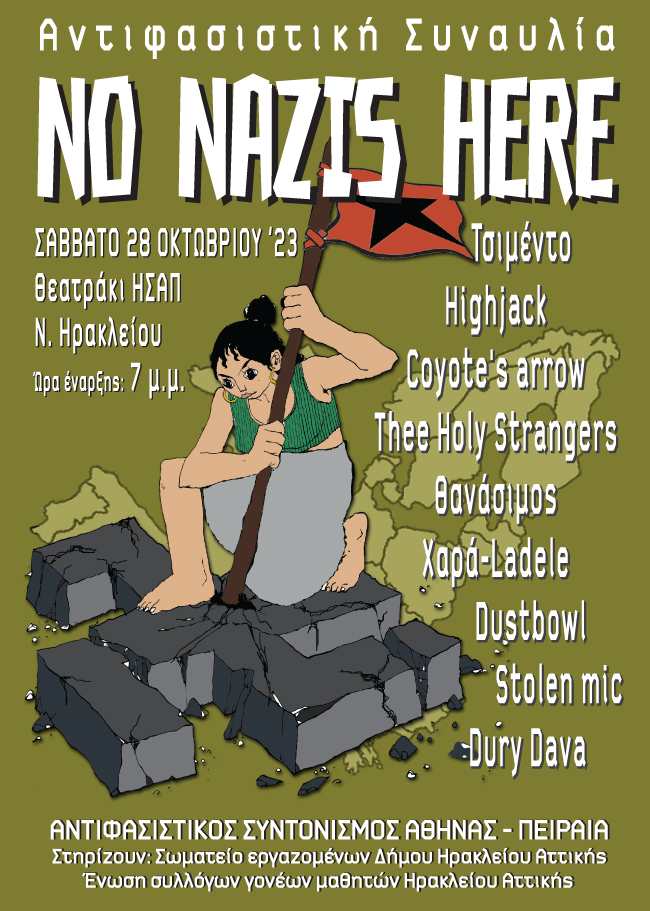 We are not going to let the neo-nazis march in Athens! If you can take part in the campaign either by sending letters of protest or solidarity, or by joining us in the streets of Athens on November 1st, please contact Antifasistikos@gmail.com
Read the Antifascist Coordination's statement in English here, in Greek here, in Spanish here, in French here and in Turkish here