The wave of strikes across the UK continues. There have been strikes by junior doctors across the NHS for four days this week and other groups of workers are about to strike or are balloting for strike action. This includes hospital consultants, who in a consultative ballot, massively supported industrial action. 86% voted for industrial action, which could include strike action from a 66% turnout. Head teachers from the National Association of Headteachers (NAHT) backed strike action, with 64% voting in favour. The NAHT is set to re-ballot its members after failing to breach the government threshold of 50% participation. Earlier this month the National Education Union (NEU) rejected a pay offer from the government as "insulting". 98% of teachers voted to reject the offer from a 66% turnout, showing a clear commitment to continue and build militancy. The NEU has scheduled another two days of strikes on 27th April and 2nd May. It is demanding that the government makes a sensible offer to the teachers. So far it has offered a paltry £1,000 for this year and 4.3% for next year with inflation running at over 11% and increasing. The other major teacher's union the, National Association of Schoolmasters / Union of Women Teachers (NASUWT) is also balloting for possible strike action after 87% of its members voted to support strike action. It also rejected the government's pay offer. Some teaching assistants are also striking against the threat to jobs and conditions. Thousands of other workers, including postal workers, train drivers and civil servants have also taken strike action.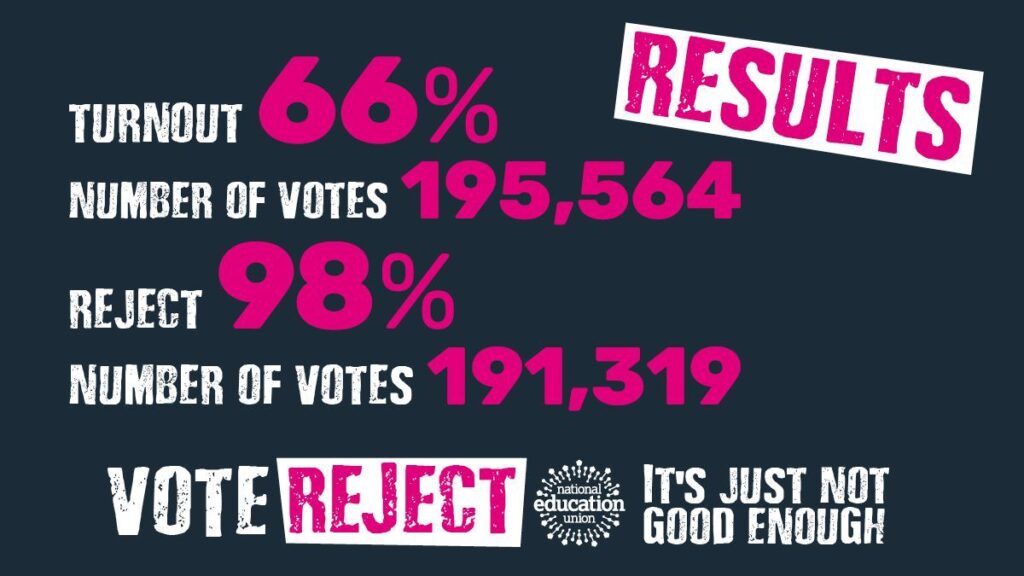 The strikes planned for this month are as follows, but there are also more localised disputes: 11, 12, 13, 14 April (Junior Doctors)- 15, 16, 17 April (Environment Agency)- 18, 20, 21, 24, 25 April (Drivers and Vehicle Standards Agency)- 27April and 2 May (NEU)- 28 April (Civil Servants). There is also a long -running strike by passport office staff which began on the 3rd of April and is set to run for five weeks. At Heathrow Airport Terminal Five security staff represented by UNITE the UNION remain on strike. British Museum workers remain on strike between the 12 – 16 April and British Library staff from the 3 – 16 April. On 28 April 130,000 members of the Public and Commercial Services Union (PCS) are on strike and this includes border force agents. The above workers could hardly be described as the most militant workers historically but they have all grown tired of being under-valued and under-paid for over a decade.
The government maintains its mantra that the workers demands are unrealistic, but the workers know that pay in the private sector is increasing more rapidly than the offers that the government is making and that their wages have declined significantly since 2008. Junior doctors are quite rightly demanding a restoration of wages to pre-austerity levels. They argue that the NHS continues to be under-funded and that the NHS can't recruit and retain doctors on a starting salary that equates to £14 an hour. Doctors are leaving the UK for Canada, Australia, Ireland as well as other countries. The government is also not training enough doctors with many highly qualified applicants being forced to study abroad, because there is a shortage of training opportunities in the UK as well as being saddled with a huge debt if they train in the UK.
The NHS is also at breaking point and working conditions are often intense and frustrating because doctors and nurses can see that standards are slipping. This adds immense stress to a job that is already demanding and stressful. The money is there to pay our NHS workers. In 2020 – 2021, £457 million was spent on paying back Private Finance Initiative (PFI) loans. These loans should be cancelled. The private sector also received £11.5 billion in outsourced contracts between 2013 and 2020 – more than 6% of total spending. All these contracts should be cancelled and brought back into the NHS. But the NHS is not safe with Labour. The Labour Party says that it would allow PFI and private outsourcing to continue and would take a tough stance on wage increases, aping Tory rhetoric.
Although the NHS unions have recommended acceptance of the government's derisory pay offer of a lump sum this year of between £1,655 and 3,789 and 5% for next year, the nurses themselves voted to reject it. UNISON members voted to accept it and it is true that many of their members are low paid and the deal was better for low paid workers. In the RCN ballot announced on Friday 14th April, 54% voted to reject the offer with 46% voting to accept it. This was with a 61% response rate. This is a huge statement by the nurses, who have rejected the union leader's recommendation and shown themselves willing to fight on. In the first strike in the union's history the nurses have shown a greater resolve than their leadership.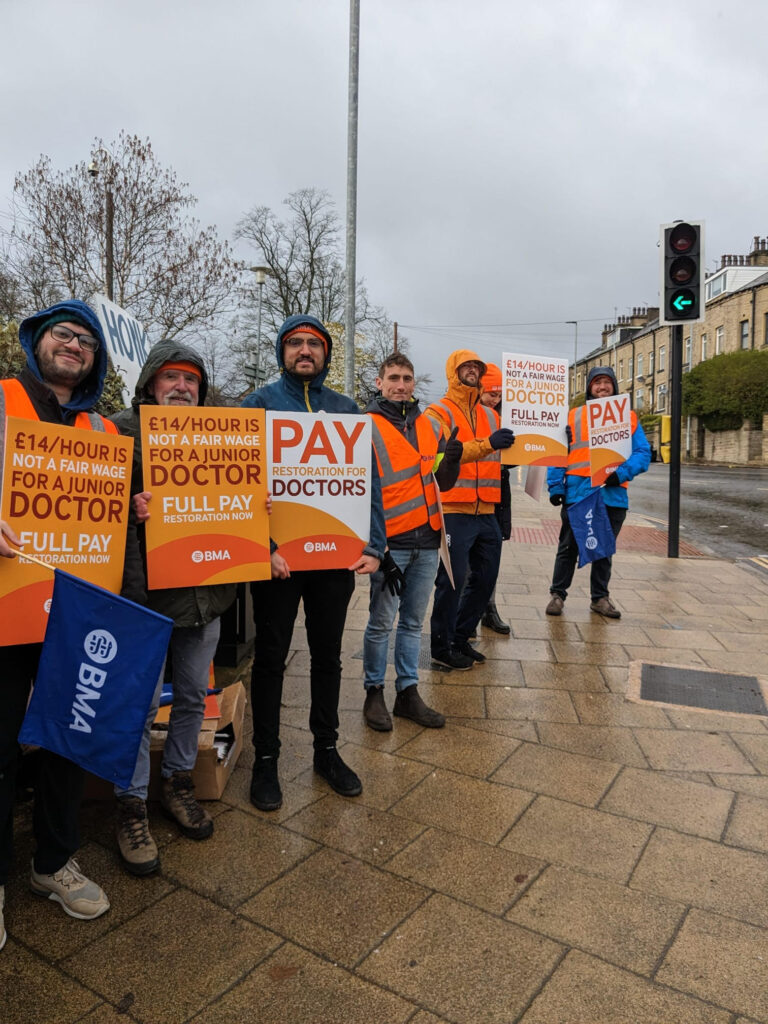 While big business is increasing prices to consumers and city bankers are raking in record bonuses, it is unrealistic and unfair to expect workers, who often have to depend on charity and food banks to accept a further cut in living standards. The supermarket Tesco announced profits of £2.63 billion last month while hypocritically claiming that it is trying to keep prices low. Tesco will continue to milk its customers and pay dividends to shareholders.
There should be emergency taxes and windfall taxes exacted on a whole swathe of private companies to pay increased wages and improve the NHS. However the government is happy to see the NHS in decline. Cabinet members do not depend on it and the multi-millionaire Prime Minister, Rishi Sunak, certainly doesn't.
Workers need to unite more closely in struggle and the TUC should be coordinating strike action and building for generalised strike action later this year. Instead of this the new general secretary of the TUC, Paul Nowak continues with the non-interventionist approach of his predecessor, Frances O'Grady. On the other hand the BMA is talking of coordinated strike action with other NHS workers with the RCN, in a typically passive statement, saying at present they had no such plans.
The people of the UK however are broadly sympathetic towards the workers in dispute, despite attempts by the media, including the BBC, to discredit them. Workers are aware that the system is broken and that the rewards are unfairly shared. The unions need to be bold in their demands and the weak leadership shown by the incompetent negotiators from the RCN should not be replicated.
Trade union leaders such as Mark Serwotka (PCS), Daniel Kabedi (NEU) Sharron Graham (UNITE) and Vivek Trevedi (BMA) among others should be the ones leading the struggle and fully supported by workers in other unions. They know that workers are fighting for a future – a future for trade unionism and working-class solidarity. The RCN leadership, that accepted the governments pay offer should be replaced with tough negotiators, not apologists for the state. Anyone who is able to should get along to picket lines, support the strikers and build towards wider solidarity action.