Translated by Marina Kontara


There is no doubt that the condemning verdict at the Golden Dawn trial, which reckons the neo-Nazi gang as a criminal organization, is a historical victory for the anti-fascist movement[1].
We are of course still waiting for the final sentences to which the court will conclude (expected on 12 or 13 October) in order to be able to make an overall assessment and see if this is indeed a big victory, or if the Golden Dawn fascists will walk into jail with light punishment. In this case this victory will probably be toned down, but of course the enormous political importance of the original decision cannot be underestimated.
In the aftermath of this victory, the whole establishment, with the support from the mainstream media, hurried up to declare it a "victory of Democracy and Justice".
New Democracy (ND) government officials can be found at the forefront of this tendency: they quickly started praising each other, while parading from one media to another in order to declare themselves as ferocious anti-fascist fighters.
But what has actually been the real "anti-fascist" struggle waged by ND officials in all those years when Golden Dawn (GD) was increasing its electoral power and finally managed to get representation in the parliament in 2012? And what has been their attitude after the murder of Pavlos Fyssas, that is between 2013 and 2019?
ND opening up to GD
Former adviser to former Prime Minister Antonis Samaras, Failos Kranidiotis, was one of the first to set the tone. Not to fight the Golden Dawn, nor to raise the "democratic wall" against the Nazi gang, but to pave the way for cooperation between GD and ND.
"… It is about time for ND to open up to the base of AN.EL. ["Independent Greeks", a nationalist party, also ally of SYRIZA while in office from 2015 to 2019] and the Golden Dawn "
(12/12/2012, newspaper Dimokratia)
There is no room for misinterpretation of this statement, as Kranidiotis came back to this point putting forward further arguments in favor of the need for cooperation between ND and GD:
"At the worst case, GD is taking on its shoulders responsibilities that actually belong to the government, with some excesses, sometimes there will be a few slaps, that is, insults and bodily injuries. The millions of stabbed immigrants only exist in the imaginative and stupid propaganda of 'progressive' journalists".
(30/12/2012, newspaper Dimokratia)
Kranidiotis is of course no longer a member of the government, but there is clearly no trace of anti-fascist discourse in the above statements. After all, his next step in the "antinazi battle" was to create a new far-right formation called the "New Right".
Leaked conversations of ND with GD
Takis Baltakos was the ND government's secretary general in 2012; he was also an advisor of A. Samaras (the then Prime Minister). In a discussion with journalists, he mentions the following:
"There is a not-wished-for yet very likely possibility that ND will be forced to rule in alliance with GD after the next elections."

Two years later, a leaked video made it to the headlines: in this video, Baltakos is holding a friendly conversation with Ilias Kasidiaris (second in power in GD and MP). In their discussion, Kasidiaris is requesting that Baltakos intervenes with Samaras, in order to save the GD accused from the persecutions they were faced with, after the murder of P. Fyssas.
The fraternal relations between ND and GD
In 2012, I. Kassidiaris attacked and slapped Liana Kanelli, MP of the Communist Party, on air. Following this shocking incident, former Prefect of Thessaloniki and ND official, Panagiotis Psomiadis, was stating at a live show:
"I am not personally bothered by the Golden Dawn, except for some extreme behaviors which I condemn".
He later described the Golden Dawn as a "sister center-right party".
A few years later, in 2015, Konstantinos Mitsotakis, ex-Prime Minister and father of the current PM, said on a TV-show:
"The Golden Dawn voters are old co-militants and comrades"; in this same show, he called them "to also engage in the struggle".
The noble -in the eyes of ND- gold diggers
Former Mayor of Athens and Minister of Foreign Affairs, also sister of the current PM, Dora Bakoyannis stated shortly after the Court decision was announced:
"The Greeks never compromised with fascist and Nazi views."
However, the same Dora Bakoyannis was stating in 2013 (before the murder of Pavlos Fyssas):
"The Golden Dawn is treating me in the noblest way. They are friendly to me, they talk to me very politely. So what, how can I be hostile to them?"
There are also several cliches of hers in a playful mood with "Führer" Nikos Michaloliakos and GD official and ex-MP Ilias Panayiotaros.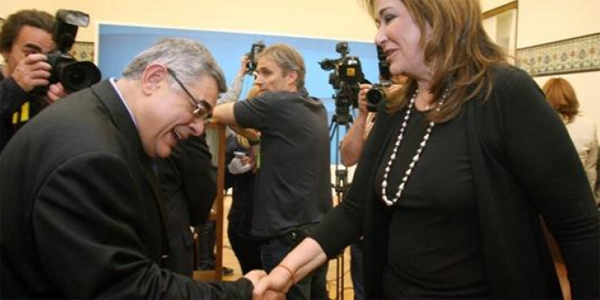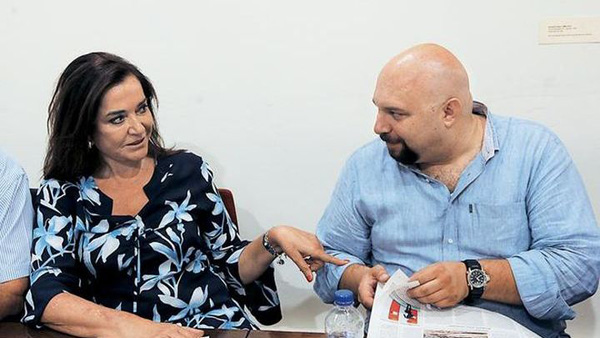 All of the above are just a few examples out of many. There is a long list of ND officials, journalists and even artists, who have publicly spoken out in favor of GD in the recent years. This list's only achievement has been to whitewash the neo-Nazi killers and normalize them as a legitimate political party.
Hypocrisy without limits!
Few days before the trial, the sympathetic to SYRIZA daily newspaper "Efimerida ton Syntacton" came out with a headline describing the leaders of the political parties of the establishment "The wall of democracy".
The above shows clearly what is indeed this "wall of democracy" to which ND and others refer.
Their wall is leaving not only cracks, but open channels of communication between ND and GD executives, whenever the ruling class needs them to play the role of the system's watchdog.
A few hours before the final verdict of the trial, ND opted for the "anti-fascism" card, just because there was a huge wave in society demanding that GD is condemned as a criminal organisation. They have practically chosen to adapt to the society's demands, only in order to take advantage of this for their own political benefits.
There is no limit in their hypocrisy! Not only did they turn a blind eye to the murderous attacks on immigrants, anti-fascists, leftists, LGBTQI-persons for years, but they were also those who led the masses to extreme impoverishment because of their horrible austerity measures, paving the way for the rise of GD.
The only real "wall of democracy" against fascism is the daily anti-fascist battle lead by the forces of the working class, anti-fascist and youth movements, in every neighborhood, school and workplace, with perseverance and patience. The real "wall of democracy" is the majestic mobilization of the masses on October 7, who flooded the streets around the Court with tens of thousands of people who shouted loudly:
"They are not innocent! Nazis in prison!"


---
[1] Anti-Fascist Victory! Golden Dawn Condemned as "Criminal Organization" & "Guilty" – the verdict against Golden Dawn, a victory of the Greek antifascist movement and working class