The Greek coordination of the common initiative against extractions and war in Greece-Cyprus-Turkey Μας σκάβουν τον λάκκο/Kazma birak/Don't dig is organizing a public meeting in Athens under the title "The war for energy & the movements in Greece, Turkey, Cyprus".
The common initiative has brought together environmental groups from Turkey, Greece and Cyprus who oppose the threat of war in the Eastern Mediterranean region and the environmental destruction which will be caused by gas extraction platforms and pipelines.
In the face of the plans to promote oil and gas extraction in our region, these groups decided about a year and a half ago to join forces. The geopolitical conflict between the three countries may be going through various phases, but it is not going to stop. Last January, the Greek government was proudly displaying its new Rafale warplanes in the skies of Athens, while all three countries are spending unimaginable sums on military budgets. At the same time, exploratory drillings continue, and if these projects proceed, they will have dramatic consequences for the ecosystems of the region.
The so-called "renewable" energy sources, in the destructive way they are planned and implemented, are overwhelming mountains and islands, the mining and burning of lignite continues, nuclear energy is now considered "green" (with a nuclear power plant being built by Turkey at Akkuyu, just across the sea from Cyprus).
The recent earthquakes and fires on both sides of the Aegean have shown that the environmental and social problems are the same for our peoples. It is our governments that are competing, along with their international patrons.
The war in Ukraine has given another dimension to these issues. The energy crisis in an instant threw all the "commitments" made by the leaders at COP26 in Glasgow a few months ago out of the window. The geopolitical battle of different blocs and alliances for energy resources seems to be intensifying. In this context we see moves aimed at reviving the debate around East Med (considered clinically dead only a few months ago) and restarting exploration drillings in the Ionian Sea and around Crete.
For all these reasons, the initiative invites you to exchange views, get informed, discuss and organise.
We have invited people of the movements from Turkey and Cyprus (from both communities) who will attend to bring us their perspective. At the same time, we have invited people of the movements from different regions of Greece to give their experience and thoughts. We want this meeting to be a platform for a meaningful dialogue between the movements of the three countries on how to jointly address the destruction of the environment and nationalist antagonisms.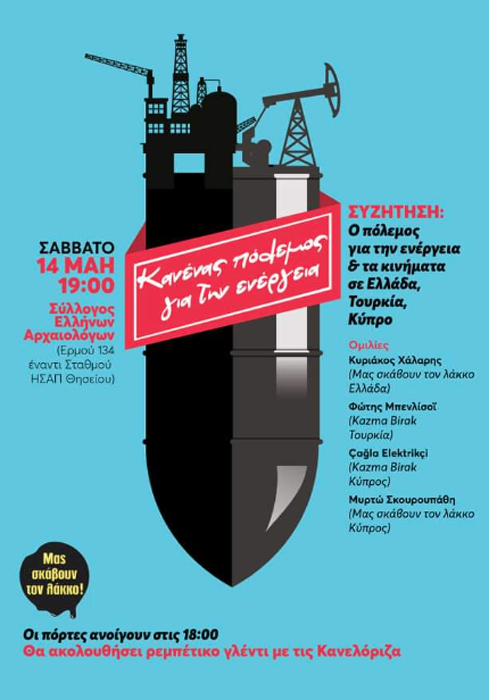 So let's meet on May 14 at the building of the Association of Archaeologists of Athens.
Details of the event:
Doors open at 18:00
At 19:00, discussion:
The war for energy & the movements in Greece, Turkey, Cyprus
Speakers:
Kyriakos Halaris (Μας σκάβουν τον λάκκο- Greece)
Fotis Benlisoy (Kazma Birak- Turkey).
Çağla Elektrikçi (Kazma Birak- Cyprus)
Myrto Skouroupathi (Μας σκάβουν τον λάκκο- Cyprus)
The meeting will also be addressed by:
Tasos Sarantis (persecuted journalist, Efimerida Syntakton)
Vasillis Chlis (#SaveTinos)
representative of the Panhellenic Network of Collectives for Energy 
Moderation:
Emmanouela Terzopoulou (Movement for the Protection & Promotion of the Great Stream of Rafina)
A popular music feast will follow, with the music group Kaneloriza Ensemble
The event will also be live streamed through Facebook
The event is organized by the Greek coordination of the initiative Μας σκάβουν τον λάκκο/Kazma birak/Don't dig (common initiative against extractions and war in Greece-Cyprus-Turkey)