The Antinazizone-YRE summer camp is an annual event which brings together comrades and activists in a 9-day sea-side festival. Discussions, concerts, screenings, expeditions, parties, collective organization of "everyday life" are all included. The idea behind the event is to combine discussions on political and social issues with leisure. The Antinazizone-YRE summer camp is being organized for 29 consecutive years now and each year attracts between 300 and 500 people, depending on conditions. From the movements' point of view, it is a place where people of all generations meet, discuss about the struggles they are involved in, about what kind of society they want to build, and how to best organize working class, youth and other social struggles.
This year's event will take place on the island of Kefallonia, at Camping Argostoli, from Friday July 29 to Sunday August 7.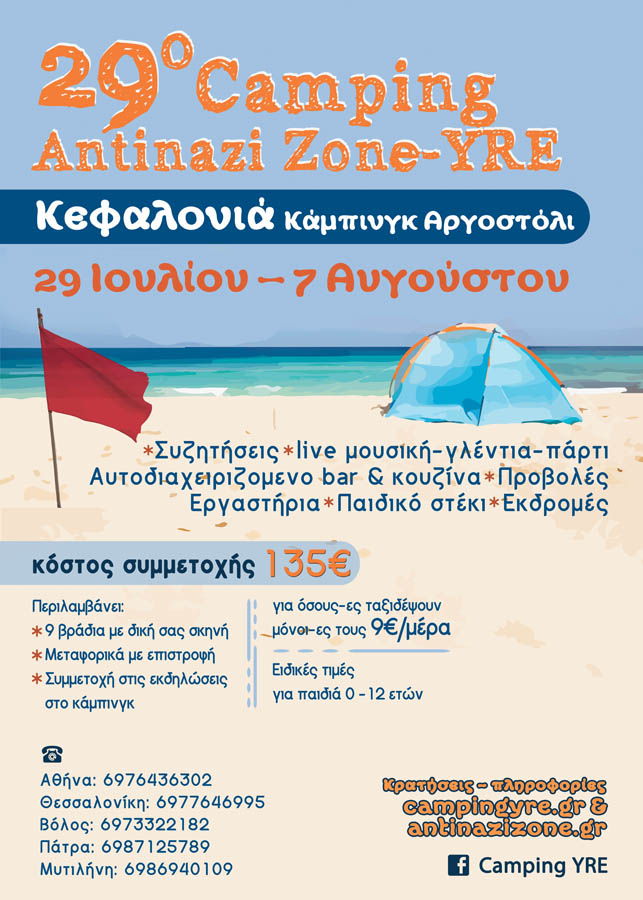 ***
The summer camp includes:
Discussions around current issues such as: The fight against war and for internationalist solidarity, environment and the climate crisis, feminism and LGBTQI+ liberation, workers' and youth struggles and strikes, struggles of the oppressed peoples worldwide, the battle against the far-right and the neo-nazis, and much much more. There will also be discussions on theoretical and historical issues.
Every night concerts, parties and events with all kinds of music by artists who are part of the movements and support Antinazizone's struggle.
Self-managed bar and kitchen. Years of experience and experimentation have made it possible for us to be able to provide food to cover everyone's needs. Breakfast, brunch, meals, sandwiches, souvlakia, meze, ect are prepared around the clock in the kitchen. The bar is also fully equipped. The prices are kept low so that everyone has access. There are shifts organized on a voluntary basis. The camp even runs its own currency! 
Everyday screenings of films, documentaries and movies for children.
Workshops in the evenings run by anyone who wants to teach a craft, from dancing to first aid.
Everyday events for children, so they can interact and play collectively.
Excursions around the beautiful Kefallonia island.
More details on all of the above will be published in the coming weeks and months as the full programme takes shape.
***
The cost of participation for international visitors is €170 and includes:
accommodation for 9 days with your own tent 
tickets for bus and ferry from Athens, Thessaloniki or Volos
free participation in all events
For those who travel alone the cost is €12 per night. For those who are not able to carry a tent with them, it is possible to rent one at low cost.
There will be special prices for children up to 12 years old.
There are also bungalows and tents for 2 or 3 persons rented by the campsite, but availability is small and they need to be booked in advance.
Please note that Kefallonia has an international airport and you can book a direct flight.
***
If you want to book, please contact us at www.campingyre.gr and www.antinazizone.gr and on Facebook Camping YRE and Antinazi Zone
See you there!