The "grace" of Mitsotakis' police is becoming well known beyond the borders of Greece!
On the weekend of 17 and 18 April, dozens of actions took place in over 20 cities in 14 countries, organized by 22 collectives of Greeks living abroad. From Sydney, Australia to New York, USA and of course in many European cities, "those who have been forced to leave Greece or cannot return due to the economic crisis brought about by the Memoranda" held a series of rallies against repression, police violence and authoritarianism in our country.
***
More than 70 people gathered outside the European Commission's headquarters in Brussels to denounce the police violence in Greece, but also the government policy in general, which is destroying the environment, attacking education and has completely failed to manage the coronavirus crisis, counting dozens and hundreds of deaths every day. The central slogan of the rally was 'Money for health, not for the police'. In addition to slogans on banners and placards, a group did an imaginative happening, giving a different tone to the rally.
This mobilization was also supported by Belgian organizations, for example la Santé en Lutte, a network of health workers.
A similar number gathered in Edinburgh, Scotland, where the participants opened banners and marched with pickets and slogans towards the Scottish Parliament. The texts distributed to the people passing by were warmly received and provoked discussions on the issue of repression in Greece.
Very lively actions also took place in Barcelona, Birmingham, Paris, Oslo, Dublin, London, Bristol, Newcastle, Brighton, Berlin, Munich, Uppsala, Gothenburg, Berlin, Copenhagen, Reykjavik and The Hague.
Barcelona
Munich
The solidarity and anger seem to have spread to many cities where Greek immigrants live!
***
This initiative was taken following the coordination of individuals belonging to the various collectives of Greeks abroad, who had previously organized some informative actions in relation to the situation in Greece.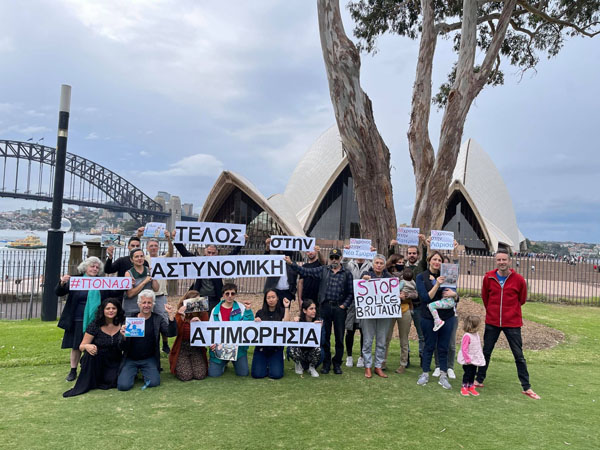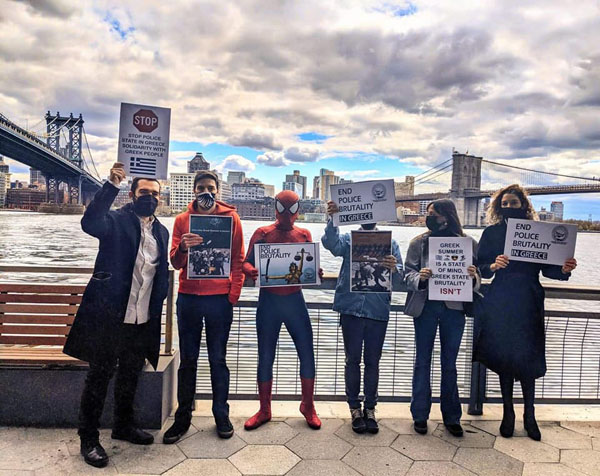 Following these sporadic actions, collectives of Greeks from different countries met online in order to coordinate with each other in a more organized way. A Facebook group was created which already has more than 2,000 members. A letter of protest was initially circulated through this group and information was exchanged.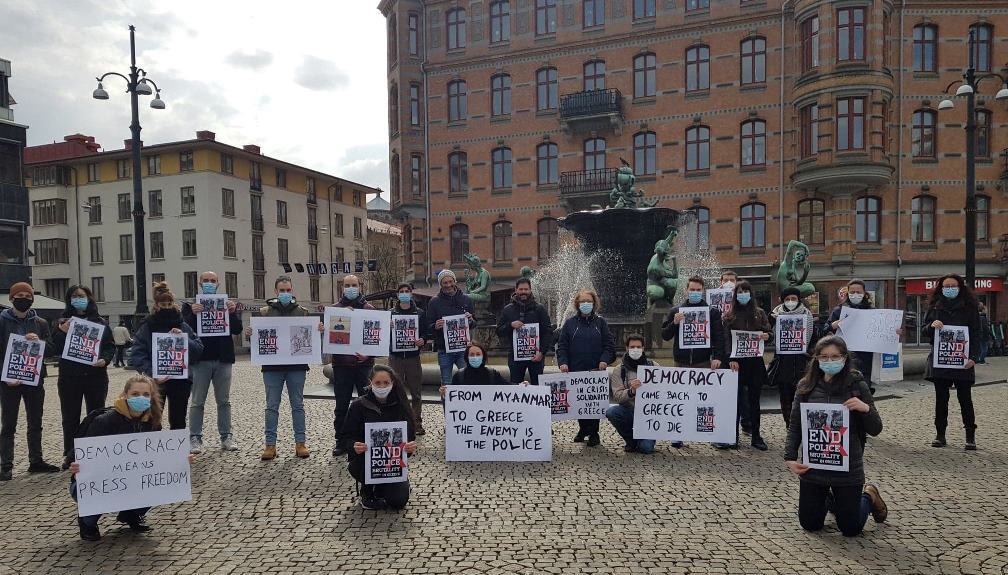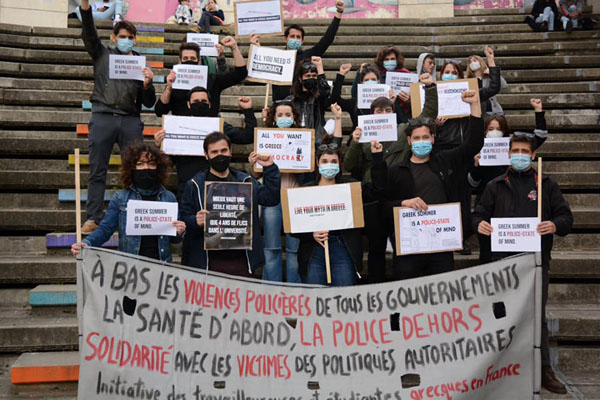 The mobilizations on 17-18 April were of course not only limited to condemning the repression, but used the occasion to highlight other criminal policies of the ND government in universities, the environment, health, workers' rights, etc. Furthermore, an attempt was made to link the struggles in Greece with those in Europe.
In London, for example, the Greek collective was integrated into the march organized by Kill the bill, the movement that has developed against the bill aiming to implement tightening measures against demonstrations.
From Athens to London, against State violence / #KillTheBill

Δημοσιεύτηκε από Greek Solidarity Network UK στις Σάββατο, 17 Απριλίου 2021
As noted in the call of the collectives for the weekend:
"We know that all this violence and repression is the only way for the government to continue its capitalist policies and neoliberal project.
We condemn all forms of state violence. We condemn any policies that lead the people into poverty while the elites are getting richer even as the pandemic develops.
We express our solidarity with the struggling people who are trying to survive and resist government policies.
The big demonstrations against the French "security law", the "kill the bill" in Britain, the mass marches against authoritarianism and the resistance in Greek universities against the creation of university police, show the way. Fear is changing sides.
We declare our support and solidarity with those who are still fighting vigorously, in Greece and Europe. Our aim from now on is to coordinate and participate in a broader framework of pan-European and international actions in the same direction".
***
The coordination of the collectives intends to organize other actions and to continue the mobilizations in the same spirit. There is already a follow up meeting planned later this week, there are ideas for participation in local May Day events and other mobilizations, and the number of people responding to the call continues to increase. It is an effort that deserves to be supported by all!
The collectives that organized the actions were:
– Netherlands (The Hague) – REINFORM
– Belgium (Brussels)- Grec.que.s solidaires de Belgique
– Barcelona – GR Solidarity Initiative Barcelona
– Birmingham – Birmingham Residents' Movement against Police Violence
– Paris (Paris) – Initiative des travailleurs.euses et étudiant.e.s grec.que.s à Paris
– Edinburgh – Greek Migrant Solidarity Initiative Scotland
– Edinburgh – Real Democracy Now Edinburgh GR
– Edinburgh – "Solidary Edinburgh"
– Oslo – IRANT
– Dublin – Greek Solidarity Ireland/Solidarity Without Borders (Ireland-Dublin)
– UK – Greek Solidarity Network UK (London, Birmingham, Bristol, Edinburgh, Newcastle, Brighton, Loughborough)
– London – Antifascist Action for Greece (AAfG)
– Munich – Munich Residents Initiative against the repressive state in Greece
– Sydney – Greek Initiative against Police Impunity
– Uppsala – Uppsala Residents' Initiative against Police Violence
– Germany (Germany) – Combative movement – Greeks in Germany
– Denmark (Denmark) – Danish Residents Initiative against authoritarianism and police democracy in Greece
– Gothenburg – Initiative of Gothenburg residents against authoritarianism and police violence in Greece
– Berlin – ReAKT – Aktion against Repression
– Copenhagen – Crisis Mirror (Residents' initiative against authoritarianism and police violence in Greece)
– Fighting People's Coalition, a group in the Greek Community of Berlin.